Wednesday, April 21st, 1:00pm CST
Ahead of Earth Day on April 22nd, Carole Lindstrom and Michaela Goade share the story behind their groundbreaking, award-winning, and New York Times bestselling picture book We Are Water Protectors. Hear from Carole about how the Dakota Access Pipeline protests at Standing Rock inspired this picture book and about how illustrating this book helped Caldecott Medal-winner Michaela Goade see art as activism.
A Certificate of Attendance will be issued to those who attend this webinar. A recording will be posted to Mackin.com for those who cannot participate in the live session.
Watch the Recording
Michaela Goade
Illustrator & Graphic Designer
Michaela Goade is a Caldecott Medal-winning illustrator and graphic designer living and working in Juneau, Alaska, where she was also raised. Forever inspired by the coastal wilds of Southeast Alaska, she works to capture its magic and honor its vibrant cultures. Michaela is from the Raven moiety and Kiks.ádi Clan from Sitka, Alaska. She is the illustrator of We Are Water Protectors, I Sang You Down from the Stars, Encounter, and Raven and the Tide Lady.
michaelagoade.com
Carole Lindstrom
Author
Carole Lindstrom is Anishinabe/Métis and is a proud member of the Turtle Mountain Band of Ojibwe Indians. She was born and raised in Nebraska and currently makes her home in Maryland. She is the author of We Are Water Protectors and Girls Dance, Boys Fiddle.
carolelindstrom.com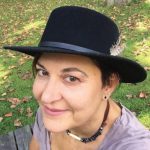 Kia Heise, Ph.D. – Host
Mackin Learning
Kia Heise holds a doctorate in Sociology and taught in Los Angeles and the Twin Cities for several years before joining Mackin Learning. Her approach is informed by thousands of hours learning how to navigate discussions of social inequality with diverse groups of young people. She is also the author of the Little Sock picture books.