Tuesday, November 14th, 1:00pm CST
Join us for an empowering and motivating discussion between authors Traci Sorell, Kelly Starling Lyons, and Aisha Saeed (moderated by editor Talia Benamy) about the inspiring women whose stories they tell in the She Persisted chapter book series. The authors will share their motivations for choosing to write these stories and explore why it's so important for young readers to learn about these incredible women. Participants will be encouraged to share their own female heroes and how they introduce these stories to students. One attendee will be selected to receive a copy of the books for their school!
A Certificate of Attendance will be issued to those who attend this webinar. A recording will be posted to Mackin.com for those who cannot participate in the live session.
Watch the Recording
Order the She Persisted Series
Traci Sorell
Author
Traci Sorell writes fiction and nonfiction books as well as poems for children. Sorell's lyrical story in verse, At the Mountain's Base, illustrated by Weshoyot Alvitre (Kokila, 2019), celebrates the bonds of family and history-making women pilots, including Millie Rexroat (Oglala Lakota). Her middle-grade novel, Indian No More, with the late Charlene Willing McManis (Tu Books, 2019), explores the impact of federal termination and relocation policies on an Umpqua family in the 1950s. Her debut nonfiction picture book, We Are Grateful: Otsaliheliga, illustrated by Frané Lessac (Charlesbridge, 2018), won a Sibert Honor, a Boston Globe-Horn Book Picture Book Honor, and an Orbis Pictus Honor. It also received starred reviews from Kirkus Reviews, School Library Journal, The Horn Book, and Shelf Awareness. A former federal Indian law attorney and policy advocate, she is an enrolled citizen of the Cherokee Nation and lives in northeastern Oklahoma where her tribe is located.
Kelly Starling Lyons
Author
Kelly Starling Lyons grew up telling stories to her family and anyone else who would listen. She is the author of many books for young readers, including the Jada Jones and Miles Lewis series, One Million Men and Me, Ellen's Broom, A Girl Named Misty, Sing a Song, and Going Down Home with Daddy. A Caldecott Honor recipient, she lives with her family in Raleigh, North Carolina.
Aisha Saeed
Author
Aisha Saeed is a New York Times bestselling author. Her books include young adult novels Written in the Stars and Yes No Maybe So (coauthored with Becky Albertalli), middle-grade novels Amal Unbound, Omar Rising, and Aladdin: Far from Agrabah, and picture book Bilal Cooks Daal (illustrated by Anoosha Syed). Saeed is also a founding member of the nonprofit We Need Diverse Books. She lives in Atlanta with her husband and sons.
Talia Benamy
Editor
Talia Benamy, editor at Philomel, has been with the Penguin Young Readers imprint since 2013. She is the editor of the She Persisted chapter book series, based on the bestselling picture books by Chelsea Clinton and Alexandra Boiger; National Book Award longlister and Morris Award winner The Life and Crimes of Hoodie Rosen by Isaac Blum; Cramm This Book: So You Know WTF Is Going On in the World Today by Olivia Seltzer, founder of The Cramm; You Can Be ABCs, based on the viral video sensation by Robert Samuel White II and Robert Samuel White III, and illustrated by Robert Paul Jr.; and the Airi Sano, Prankmaster General series by Zoe Tokushige and Jennifer Naalchigar. Benamy sees books as having the amazing power to shape the way kids see the world around them, their role in it, and their ability to impact it; and as part of Philomel's mission to publish books with inspiring, empowering messages for young readers, she looks for manuscripts that have the potential to do just that. Benamy lives in Brooklyn, New York.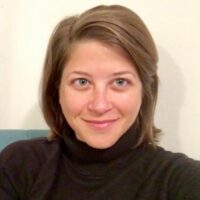 Kia Heise, Ph.D. – Host
Mackin Learning
Kia Heise holds a doctorate in sociology and taught in Los Angeles and the Twin Cities for several years before joining Mackin Learning. Her approach is informed by thousands of hours learning how to navigate discussions of social inequality with diverse groups of young people. She is also the author of the Little Sock picture books.