Mackin.com
Priorities for classroom lists – To support classroom orders, we've increased the number of priorities for lists designated as "Classroom" or "Book Room/Leveled Library". Classroom users typically allocate priorities based on teacher, grade, or unit so more options are needed. The updated options include A-Z and 0-9. We've also adjusted the label from "Priority" to "Preference" to reflect the difference between library and classroom lists.
If the current list has a description of "Classroom" or "Book Room/Leveled Library", classroom users can choose from the expanded set of options when adding titles to their list.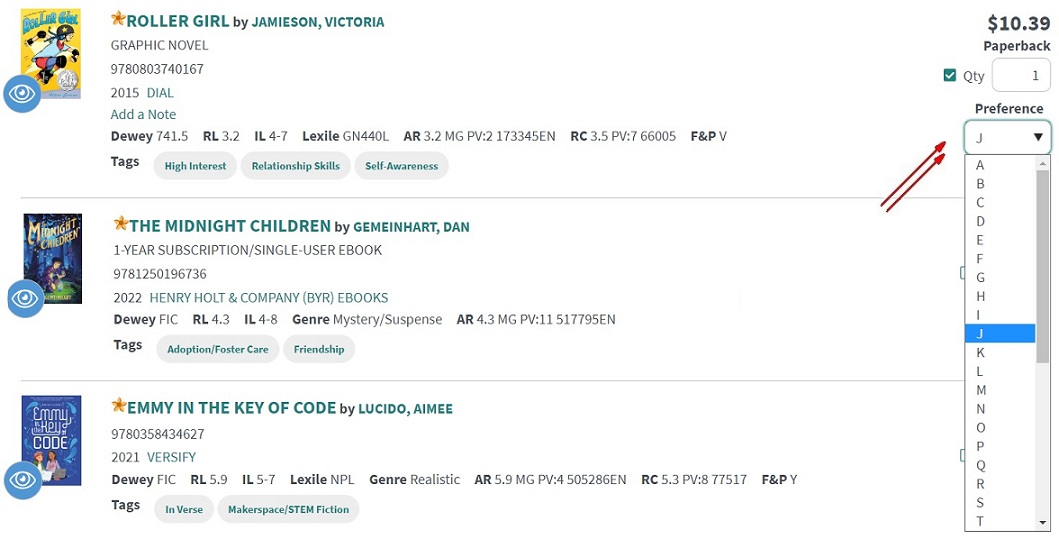 The expanded preferences will also be present when viewing list details and list summary.
Additionally, classroom users will have the ability to add the same title to their list with different preferences. These will display as separate line items on the list. While viewing the full record of a title, there will be a new item in the Options menu to "Add Title by Preference". Simply enter the new preference, quantity, and a note if desired. If the preference for that title is already on the list, a notation will display, "Preference used on list", and the quantity and/or note can be updated.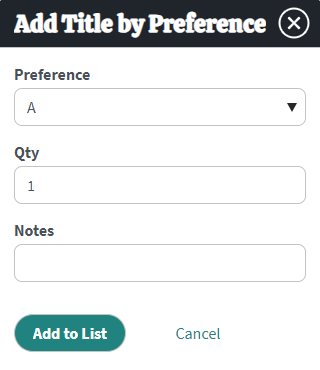 Notes:
While searching for items, priority or preference is displayed based on the description of the current list.
If a list description changes to something other than "Classroom" or "Book Room/Leveled Library" or if items are moved, copied, or merged with a list that has a different description, priorities for items that are outside of A-D will get set to D.
The default priority options will remain A-D in the Profile regardless of list description.
Titles with multiple preferences on a list will be treated as duplicates when viewing search results or using the Dup Check filter.
Upload a purchase order – Users now have the ability to upload a purchase order document during the Send Order process. They must select Purchase Order as the payment method and choose "Yes" to the confirming PO question. This will open a panel with the file uploader.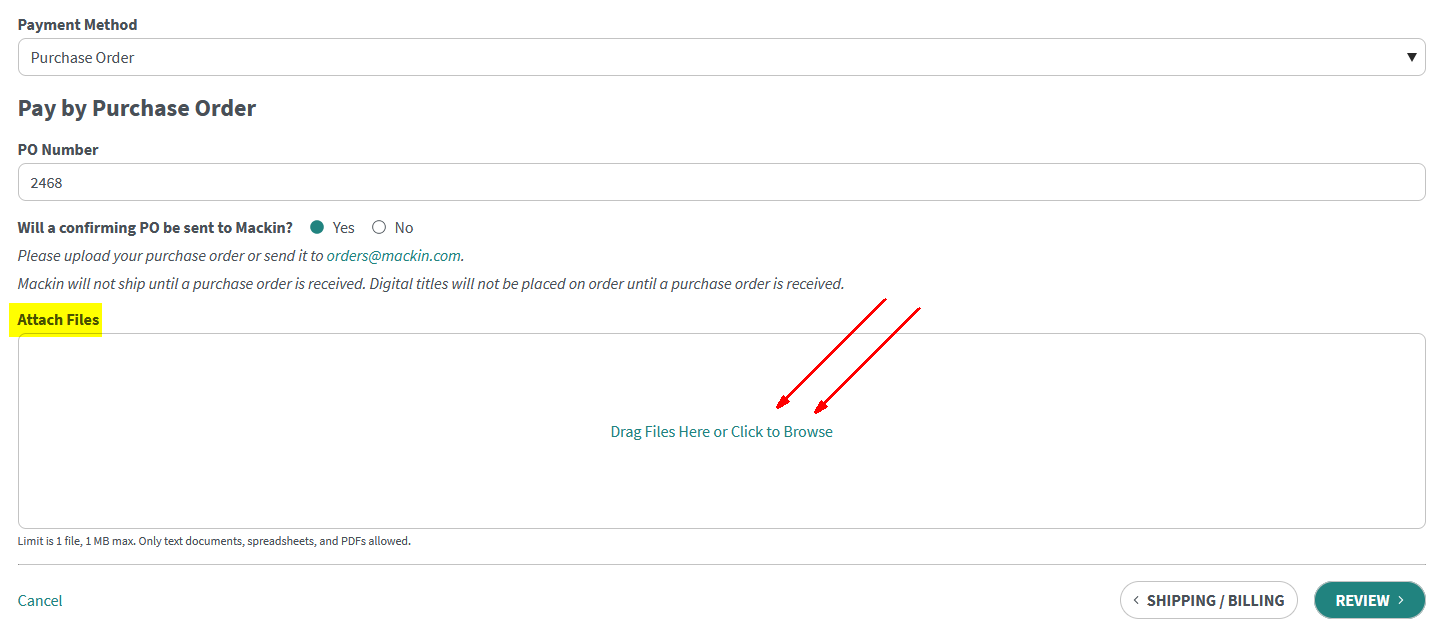 Tags on list printouts – We've added the ability to include tags when printing a list. Tags will display below the title in alphabetical order.

Tags on list exports – Tags are now included on list exports. The column is present by default and will appear on both the List Details and Unavailable Titles tabs. Tags will display in alphabetical order. 
Tag descriptions – Descriptions for the following tags will now display when hovering over the name of the tag. These descriptions provide additional context for customers when choosing titles to purchase.
Authentic Text
Mature Themes
Own Voices
Diverse Family Structure
Neurodiverse
People with Disabilities
General Diversity
Gender Issues

---
MackinVIA Admin
Infobase panel on Integrations – A new panel for Infobase has been added to the Integrations page for users wanting to include Infobase databases in the Mackin Deep Discovery Search. MackinVIA needs to be enabled as a discovery tool within Infobase as part of the Deep Discovery Search set up. After an administrator enters their school's Infobase Account ID and clicks Save, an email will be sent to Digital Services who will then contact Infobase to enable the account.

Account ID in General Settings – The eServices account ID is now present in the Information panel on the General Settings page. This ID is used by library catalogs, including Accessit, Insignia, and TLC, to connect MackinVIA through the API.