Thursday, December 1st, 4:00pm CST
Join us as authors Julie Abe and Laekan Zea Kemp discuss their unique approaches to writing fantasy for middle grade readers with middle school librarian and 2022 SLJ School Librarian of the Year K.C. Boyd.
A Certificate of Attendance will be issued to those who attend this webinar. A recording will be posted to Mackin.com for those who cannot participate in the live session.
Watch the Recording
Julie Abe
Author
Julie Abe has lived in Silicon Valley, spent many humid summers in Japan, and currently basks in the sunshine of Southern California with never enough books or tea, where she creates stories about magical adventures. In a starred review, Kirkus called Abe's debut novel, Eva Evergreen, Semi-Magical Witch, "Bewitching … a must-read for fantasy lovers." Abe is also the author of Eva Evergreen and the Cursed Witch, and Alliana, Girl of Dragons. Visit her online at www.julieabebooks.com.
Laekan Zea Kemp
Author
Laekan Zea Kemp is the author of Pura Belpré Honor book, Somewhere Between Bitter and Sweet, as well as Heartbreak Symphony. When it comes to storytelling, she wants to make people laugh, cry, and crave Mexican food. Her work celebrates Chicanx grit, resilience, creativity, and joy; while exploring themes of identity and mental health. She lives in Austin, Texas. Omega Morales and the Legend of La Lechuza is her middle grade debut. Kemp invites you to visit her at laekanzeakemp.com or follow her on Twitter @LaekanZeaKemp.
K.C. Boyd
Moderator
K.C. Boyd is a school librarian with the District of Columbia Public Schools, and she is also the national 2022 School Library Journal Librarian of the Year. Boyd serves on the executive boards for the District of Columbia Library Association and Washington Teachers Union. She is an active committee member for the ALA Chapter Council representing Washington D.C., and EveryLibrary Institute/Advisory Board. Boyd is also a member of the District of Columbia Public Schools Library Corps and serves on the AASL School Library Event Promotion Committee. A staunch advocate for school libraries, she is widely known and respected for her work educating parents, teachers, and district officials on promoting leisure reading for children and teens. It is Boyd's belief that all children, despite economic circumstances, have the right to read and should have access to books that reflect themselves and encourage inquiry. Boyd can be reached through her website: http://www.kcboyd.com.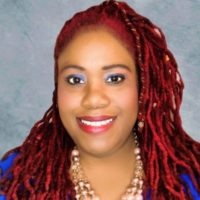 Kia Heise, Ph.D. – Host
Mackin Learning
Kia Heise holds a doctorate in Sociology and taught in Los Angeles and the Twin Cities for several years before joining Mackin Learning. Her approach is informed by thousands of hours learning how to navigate discussions of social inequality with diverse groups of young people. She is also the author of the Little Sock picture books.