Thursday, April 27th, 1:00pm CDT
Join our conversation with authors Tom Angleberger, Meg Eden Kuyatt, and Elle McNicoll who come together to discuss neurodiversity with Dr. Alyssa Emery, a former special education teacher who studies the experiences of students with disabilities. The panelists explore the importance of representation of neurodivergent characters in books for young people, as well as the significance of writing these stories from authentic lived experiences. They also discuss their own journeys as neurodivergent creators, and how educators can support and motivate neurodivergent students.
A Certificate of Attendance will be issued to those who attend this webinar. A recording will be posted to Mackin.com for those who cannot participate in the live session.
Watch the Webinar
Tom Angleberger
Author
Tom Angleberger is the author and illustrator of many children's books, including the Origami Yoda series, which has sold millions of copies worldwide. He lives in Virginia with his wife, Cece Bell.
Meg Eden Kuyatt
Author
Meg Eden Kuyatt teaches creative writing at colleges and writing centers. She is the author of the 2021 Towson Prize for Literature winning poetry collection Drowning in the Floating World (Press 53, 2020) and children's novels, most recently Good Different, a JLG Gold Standard selection (Scholastic, 2023). Find her online at https://linktr.ee/medenauthor.
Elle McNicoll
Author
Elle McNicoll is a bestselling and award-winning novelist. Her debut novel, A Kind of Spark, won the Blue Peter Book Award and the Overall Waterstones Children's Book Prize, and was named Blackwell's Book of 2020. She is a three-time, Carnegie-nominated author, and was shortlisted for the Books Are My Bag Awards 2020, 2021, and 2022; the Branford Boase Award 2020; and The Little Rebels Award 2020 and 2021. She was also honored in the US with the Schneider Award in 2022. Her second novel, Show Us Who You Are, was Blackwell's Book of the Month and one of The Bookseller's Best Books of 2021. A Kind of Spark has also been adapted for television, which will be on UK and US screens on the 2nd of April, 2023. She is an advocate for better representation of neurodiversity in publishing, and currently lives in North London.
Alyssa Emery
Moderator
Alyssa Emery is an assistant professor of learning sciences at Iowa State University. She is a former teacher who studies achievement motivation among students with disabilities in general education and college classrooms.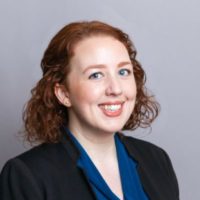 Kia Heise, Ph.D. – Host
Mackin Learning
Kia Heise holds a doctorate in sociology and taught in Los Angeles and the Twin Cities for several years before joining Mackin Learning. Her approach is informed by thousands of hours learning how to navigate discussions of social inequality with diverse groups of young people. She is also the author of the Little Sock picture books.