Thursday, February 16th, 2:00pm CST
There's nothing more powerful than a story that connects us to help us understand each other and ourselves and to build empathy. Join us as we share these books and highlight the importance of sharing stories with young people to let them know how telling their stories will help them understand and expand their world.
A Certificate of Attendance will be issued to those who attend this webinar. A recording will be posted to Mackin.com for those who cannot participate in the live session.
Watch the Recording
Aida Salazar
Author
Aida Salazar is an award-winning author and arts activist whose writings for adults and children explore issues of identity and social justice. She is the author of the middle grade verse novels The Moon Within (International Latino Book Award winner), Land of the Cranes (Américas Award winner), and the forthcoming biography picture book, Jovita Wore Pants: The Story of a Mexican Freedom Fighter. With Yamile Saied Méndez, she is slated to co-edit Calling the Moon, a middle grade anthology on menstruation by writers of color. She is a founding member of Las Musas, a Latinx kidlit debut author collective. Her short story By the Light of the Moon was adapted into a ballet production by the Sonoma Conservatory of Dance and is the first Xicana-themed ballet in history. She lives with her family of artists in a teal house in Oakland, California.
Betty Tang
Author
Betty C. Tang is the New York Times bestselling illustrator of the Jacky Ha-Ha series of graphic novels by James Patterson and Chris Grabenstein. She has worked for various Hollywood animation studios including Disney TV and DreamWorks Animation, and co-directed an animated feature called Where's the Dragon? Betty is also a fourth degree black belt in Aikido, a Japanese martial art. Born in Taiwan, Betty immigrated to California as a Parachute Kid when she was ten. She lives in Los Angeles. Learn more about her work at bettyctang.com.
Francisco Stork
Author
Francisco X. Stork is the author of Marcelo in the Real World, winner of the Schneider Family Book Award for Teens and the Once Upon a World Award, and The Last Summer of the Death Warriors, which was named to the YALSA Best Fiction for Teens list. He works in Boston as an attorney for a state agency that develops affordable housing. He is married and has two adult children.
Sandra Farag
Moderator
Sandra Farag is Head of Youth Services at Kalamazoo Public Library. Sandra most recently served as the Manager of Collection Development for Youth at Ingram Library Services in LaVergne, TN. Sandra has also served on multiple award committees, and presented and/or moderated events at the American Library Association Midwinter Meeting, the American Library Association Graphic Novels and Comics Round Table, the Young Adult Library Services Association Symposium, Bank Street College, School Library Journal Day of Dialog, KidLitTV, and BookCon NYC. Sandra earned her Master Library Sciences (MLS) and Children's and Young Adult Services in the Public Library Certificate, City University of New York (CUNY), Queens College Bachelor of Arts in Child and Adolescent Psychology, CUNY, Baruch College.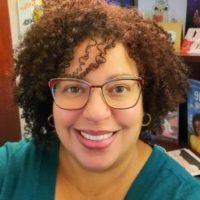 Kia Heise, Ph.D. – Host
Mackin Learning
Kia Heise holds a doctorate in sociology and taught in Los Angeles and the Twin Cities for several years before joining Mackin Learning. Her approach is informed by thousands of hours learning how to navigate discussions of social inequality with diverse groups of young people. She is also the author of the Little Sock picture books.