Title:
Good Night Stories for Rebel Girls: 100 Inspiring Young Changemakers
---
Level:
Grades 3-6
---
Summary:
Readers will celebrate well-known women, like Greta Thunberg, Bethany Hamilton, Bindi Irwin, Zendaya, and the Linda Lindas, and meet up-and-coming powerhouses like inventor Vinisha Umashankar, fashion designer Marine Serre, stuntwoman Sadiqua Bynum, filmmaker Taegen Yardley, poet Alexandra Huynh, and environmental activist Helena Gualinga.
The girls and women in the book come from different countries and backgrounds and have a wide array of interests and accomplishments. Barrier-breaking performer Keke Palmer became the youngest talk show host in US history. Entrepreneur Mikaila Ulmer founded a lemonade company to help save honeybees. Brazilian skateboarder Rayssa Leal turned a hobby into an Olympic dream. And British body positivity advocate Megan Jayne Crabbe and Indigenous artist Te Manaia Jennings inspire kids to keep their minds healthy.
Each story is told in the whimsical fairy tale style that has made the series a success and is paired with a bold, full-page portrait. With a foreword by conservationist and TV personality Bindi Irwin, the book features the work of authors, artists, and editors aged 30 and under. In addition to showcasing the stories of incredible young people, more than 60 young female or nonbinary artists from all over the world contributed original artwork to the book.
Shop Today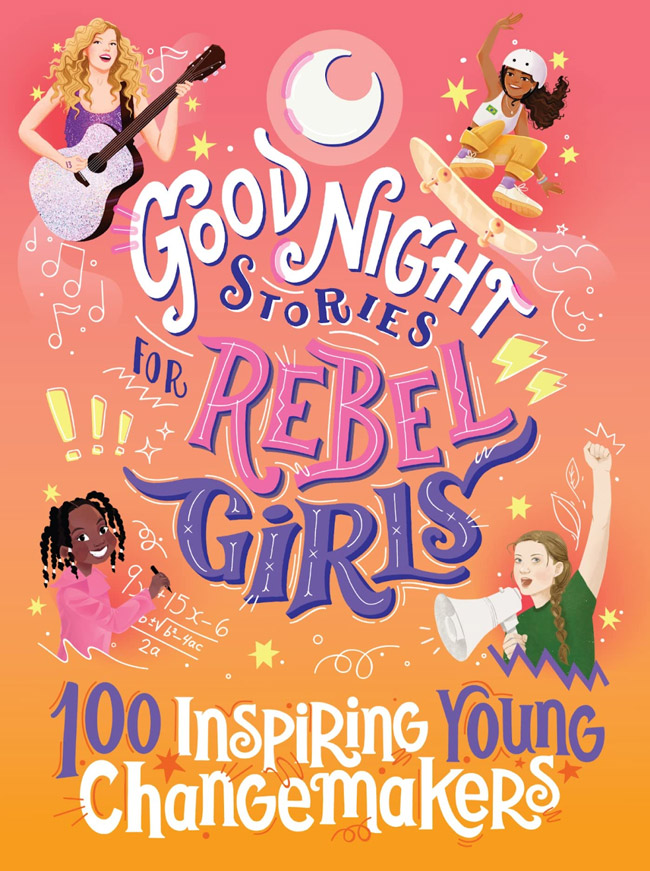 Good Night Stories for Rebel Girls
For more information go to Mackin.com for:
Book Reviews • Book Previews • Audiobook Samples • Teacher Guides
Rebel Girls is a global, multi-platform empowerment brand dedicated to helping raise the most inspired and confident generation of girls through content, experiences, products, and community. Originating from an international best-selling children's book, Rebel Girls amplifies stories of real-life women throughout history and in various fields of excellence. The brand engages with Generation Alpha through its book series, award-winning podcast, events, and merchandise. With the 2021 launch of the Rebel Girls App, the company has created a flagship destination for girls to explore a wondrous world filled with inspiring true stories of extraordinary women.