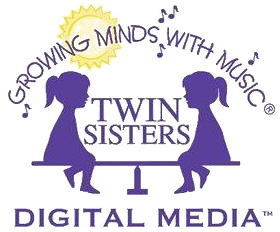 Learning with music is a fun and successful way for children to learn basic skills!
Order Twin Sisters Streaming Videos Today!
Studies prove that exposing children to music at a young age will enhance spatial reasoning, increase IQ performance, and inspire creative development. Teacher written and classroom tested, Twin Sisters has been entertaining and teaching children for 30+ years!
"I have been using Twin Sisters' music in my Kindergarten classroom for over 20 years. My kiddos love to sing the alphabet and learn letter sounds. Playing Twin Sisters' music makes my job a lot easier."
"As a mom of a very active boy, getting him to sit still seems impossible. So, I don't worry about it anymore. I play Twin Sisters' music and watch him count, clap, dance, and learn at the same time. I'm a happy mom."
Order Twin Sisters Streaming Videos Today!
Renewal Required: You must renew this subscription every year.
Lifetime Access: You only need to purchase this product one time.
Simultaneous Access: More than one person can use this product at the same time.
Multi-School Incremental Discounts: Discounts available if purchasing for more than one school/location. Contact Mackin for discount information at eservices@mackin.com.
Multi-Year Discounts: Discounts available if purchasing for more than one consecutive year. Contact Mackin for discount information at eservices@mackin.com.
Content Correlation: NF=Nonfiction F=Fiction
Browser Requirements:
Any standard web browser
Adobe Flash Player or another media plugin, or an HTML5 compliant browser
Operating system: Window 7+, Mac OS X 10.7+, Ubuntu 10+, or Linux OS 11+ (64-bit)
Internet connection with 1+ Mbps