Order Ad Fontes databases today!
SUMMA News Literacy Curriculum
Learn our Methodology and Build a Media Bias Chart!
Information, media, and news literacy are vital skills for today's learners. 
Our Media Bias Chart has been a part of providing thousands of educators with the tools students need to recognize reliable sources and source-level bias. 
Now our SUMMA News Literacy Curriculum provides a fun and engaging way for educators to teach students the methodology our own media analysts use to build the Media Bias Chart. 
Through a 10-lesson course, and Content Analysis Rating Tool (CART), students learn the methodology to master news literacy, analyze media, achieve academic success, and critique media pieces. 

To read "laterally," which is the most effective way for readers to determine source credibility, rather than merely reading "vertically" within an article.
To become familiar with – and quickly decode – common rhetorical, partisan, and "click-bait" devices employed to influence and persuade readers and consumers.
To become responsible news consumers who can confidently determine the reliability and bias of information they encounter through multiple media platforms.
To become quickly familiar with contemporary left-, center-, and right-leaning positions on political issues.
To practice skills in reading comprehension, critical thinking, and in comparing and contrasting.
To create their own Media Bias Charts – individually or collectively – applying what they learn.
To rate current news sources and content according to a proven methodology.
Order SUMMA News Literacy!
Interactive Media Bias Chart® Educator Pro
This Interactive Media Bias Chart® is a data visualization that displays measures of news (and "news-like") articles and sources generated by analysts and staff of Ad Fontes Media. It reflects our most up-to-date ratings of all our rated articles and shows over time.
All features of our well-known Interactive Media Bias Chart, plus…
Access to our complete and constantly growing data set
Downloadable "include" and "exclude" source lists based on parameters you set
Use your include and exclude lists to set acceptability standards for students' citations
Use bias ratings to request comparative research from students
Unlimited searches, filters, and downloadable charts and lists
Continuously updated with data from professional media analysts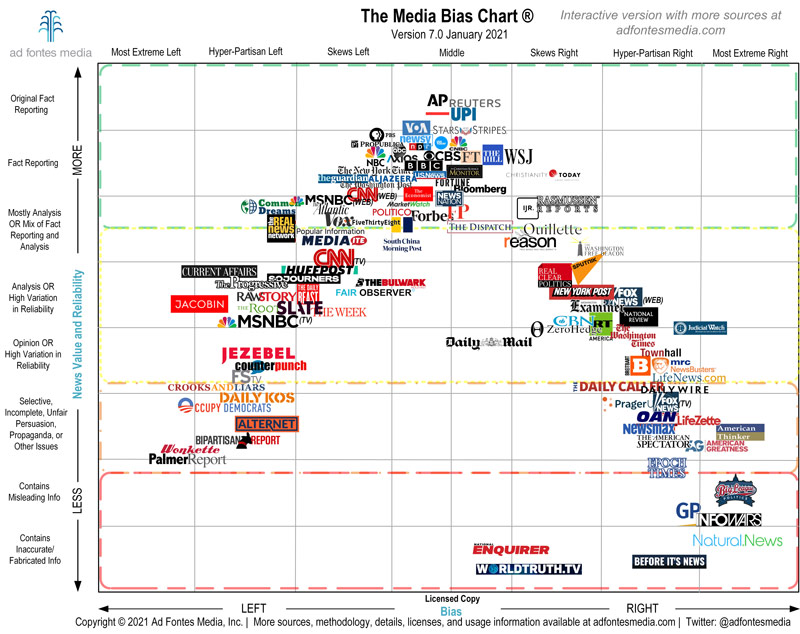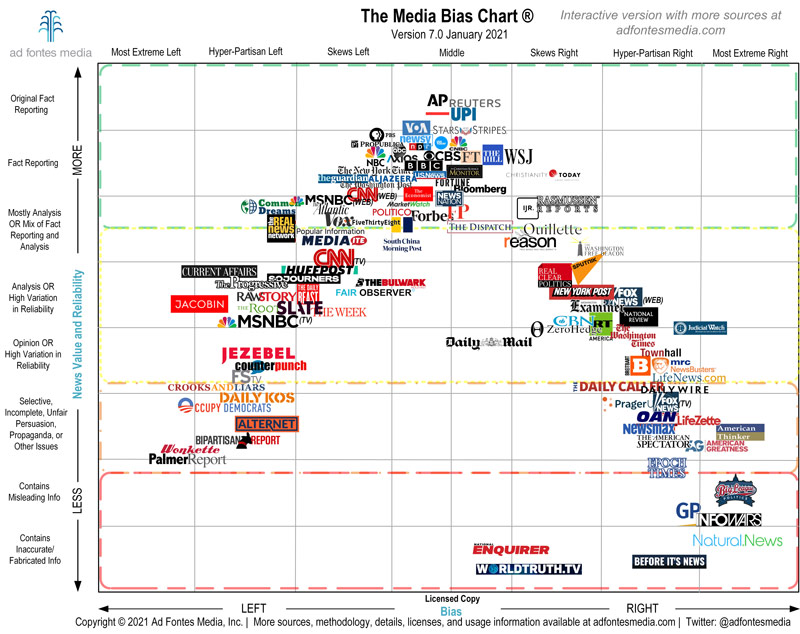 Order Interactive Media Bias Chart!
Renewal Required: You must renew this subscription every year.
Lifetime Access: You only need to purchase this product one time.
Simultaneous Access: More than one person can use this product at the same time.
Multi-School Incremental Discounts: Discounts available if purchasing for more than one school/location. Contact Mackin for discount information at eservices@mackin.com.
Multi-Year Discounts: Discounts available if purchasing for more than one consecutive year. Contact Mackin for discount information at eservices@mackin.com.
Content Correlation: NF=Nonfiction F=Fiction
Works on all web browsers, but with highest support for Google Chrome. In order of best to worst remaining browsers: Firefox, Edge, Safari