Animated Children's Stories Performed in Sign Language
Order Signed Stories Today!
Signed Stories presents best-selling children's books in American Sign Language (ASL). All stories are inclusive, featuring captions, animation, narration and music. Stories are selected to support teachers working to Common Core State Standards. Signed Stories has a very simple goal – to help improve the literacy of deaf children, and children with special educational needs including autism, by giving them access to the best children's literature in sign language. Signed Stories brings the magic of storytelling to all children!
Key Benefits of Signed Stories
All of our Signed Stories are presented in American Sign Language allowing children to enjoy the magic of storytelling in their first language.
Signed Stories is an inclusive experience enabling all children to enjoy the same stories at the same time.
Books are brought to life together with captions, animation, narration and music to provide an enriched storytelling experience.
Stories are performed by award-winning presenters Peter Cook, Keith Wann, Pinky Aiello and Rachel Shenton.
Teachers can use Signed Stories in the classroom to support learning.
Captions help to improve vocabulary and boost a child's confidence with reading.
All videos are produced in high definition providing unrivalled picture quality and rich, vivid colors.
Watch an Overview of Signed Stories!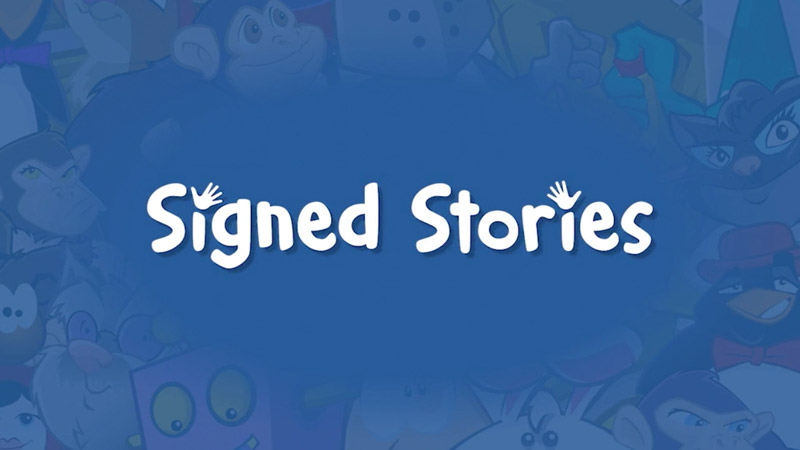 "The inviting stories, the active presenters and the colorful graphics make this a must for children of various ages. I highly recommend this… for classrooms and families alike."
Educational Resource Specialist
"The students I work with ask me all the time 'when is a new book coming?' It has enriched their love for reading in a way that is beautiful to behold."
"Signed Stories are important educational tools in classrooms throughout the US. Children are captivated by the rich, visual nature of the books. They learn language through seeing the sign language presented in each story."
Director of Communications & Development
Order Signed Stories Today!
Renewal Required: You must renew this subscription every year.
Lifetime Access: You only need to purchase this product one time.
Simultaneous Access: More than one person can use this product at the same time.
Multi-School Incremental Discounts: Discounts available if purchasing for more than one school/location. Contact Mackin for discount information at eservices@mackin.com.
Multi-Year Discounts: Discounts available if purchasing for more than one consecutive year. Contact Mackin for discount information at eservices@mackin.com.
Content Correlation: NF=Nonfiction F=Fiction
Browser Requirements:
Any standard web browser
Adobe Flash Player or another media plugin, or an HTML5 compliant browser